The predecessor of Szabadics Zrt. was the private enterprise of József Szabadics, started in 1989 with 8 people. After continuous improvements, the company exceeded the limits of a private enterprise by 1996, and as the first step in the chain of changes, the Szabadics Közmű és Mélyépítő Egyéni Cég (Szabadics Public Utility and Civil Engineering Construction Individual Company) was established on 1st December, 1996, and it was transformed on 1st January, 1997 by ownership expansion into the Szabadics Közmű és Mélyépítő Kft (Szabadics Public Utility and Civil Engineering Construction Limited Liability Company). At this point, the return from sales were 163 million Hungarian Forint, and the headcount was 60., Attila and Zoltán, the two sons of the Founder became members in the Ltd company.
Based on the decision of the owners, the limited liability company was changed into a closed private limited company (Zrt.) on 30 June, 2006 as Szabadics Közmű- és Mélyépítő Zártkörűen Működő Részvénytársaság (Szabadics Public Utility and Civil Engineering Construction Closed Private Limited Company) but the existing owner structure was unchanged.
The base business of the company between its founding and 2012 was public utility and subsurface civil engineering construction, and it was complemented by water engineering structure construction from 2012, followed by starting up the drinking water business in 2013. In March 2018, we organized our surface construction into a separate branch, in order to have a significant role in this field of the construction industry. The predecessors of our surface construction business were surface construction companies of the company group, with ten years of expertise and proficiency in their profession.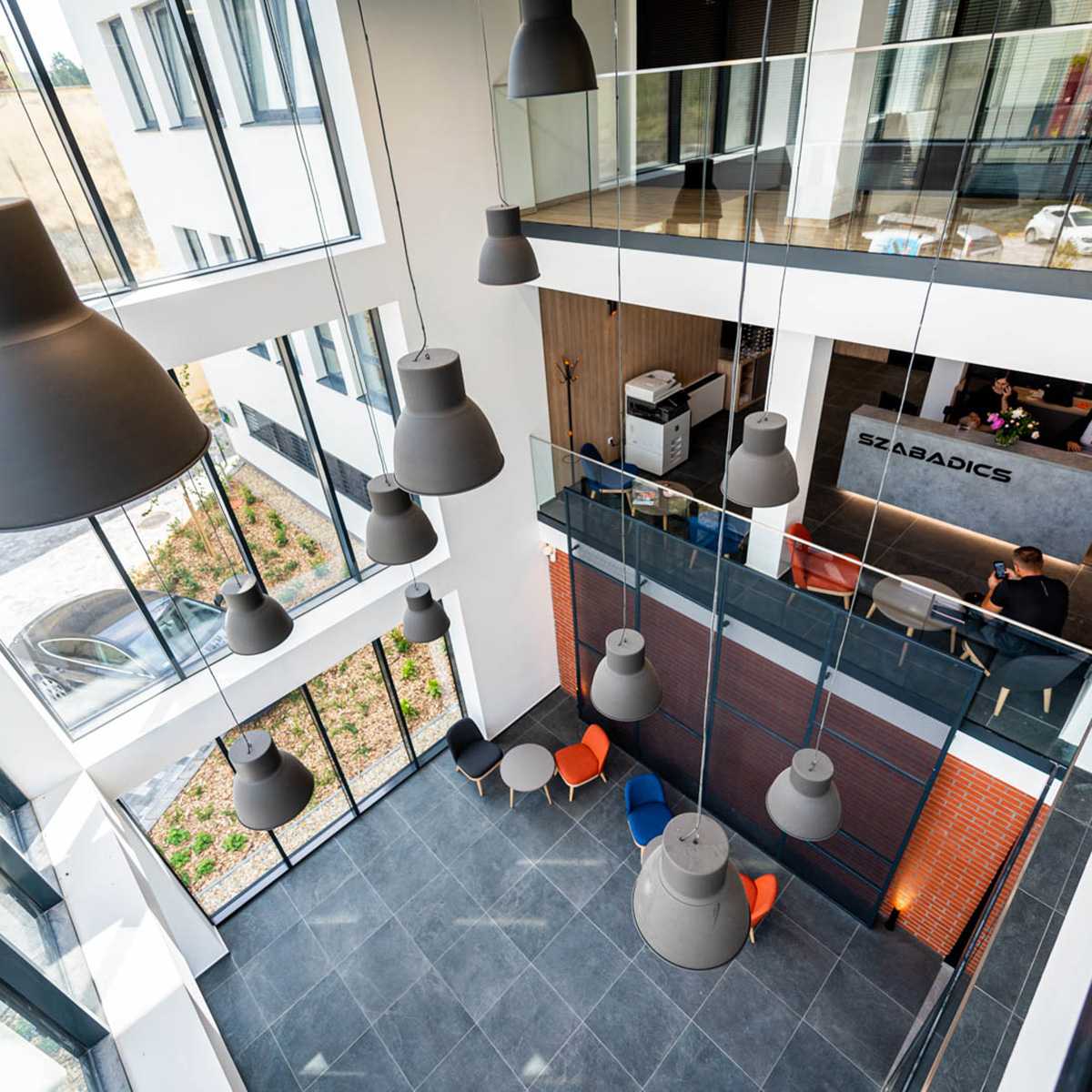 Our business further expanded in 2014 by incorporating a company specializing in ferroconcrete structure construction, and in 2016 by pipeline and steel structure construction competence.
The owners of the company were constantly looking for those experts who have adequate enterprise management experience to be included in the upper management and who can be introduced into the circle of owners in order to create the right interests. Five managers of the company became joint owner starting from 2008, in a number of stages.
We completed numerous projects in recent years; we have significant references in the areas of public utility construction, sewer construction, road construction, town development, building demolition, and surface construction. Thanks to our excellent technical efficiency, we have become reliable partners of municipalities and water providers. We were among the first companies in Hungary to be qualified economically, legally and technologically to participate in the state coordinated PPP projects, thanks to which playing sports is available for hundreds of adults and children in any season in the five sport complexes operated by us.
In the course of our continuous development, however, we have kept those values which form the bases of a family business.
The Szabadics company group is suitable to carry out large construction industry projects, as we have our own equipment to execute construction works, and also have the necessary number of employees. We organized out construction units into separate companies in 2017 and 2018. The organization and equipment of Szabadics Work Kft was set up to carry out subsurface civil engineering tasks, and the organization and equipment of Szabadics Build Kft. was created to execute surface construction works in the most effective way.
In 2020, our company moved to a larger, more comfortable and modern office building in Nagykanizsa from the office building in Zalakaros, after continuous developments. The move was justified by the growing headcount and the number of projects in various areas.
The goal of the company is to build a modern and effective enterprise based on the values created in recent years, with the primary mission of expanding the circle of satisfied customers. We trust that we can maintain the development of recent years, and that we will have further success in the targeted areas as a midsized company focusing on a wide range of construction industry.
Therefore, we continuously strive to work out better technical solutions, and to implement newer, more effective and more economic technologies that result in even better quality. Our goal is to provide excellent work from a technical perspective at competitive prices, while at the same time avoid burdening the environment as much as possible during construction.
During our activities spanning over decades, we have always been striving to implement and apply state-of-the-art, innovative technologies that make our work faster, more effective and ensure even better quality.